---
We want to thank everyone who submitted films & screenplays and everyone who attended the festival this weekend. There were a lot of good films shown.
We will begin work on next year's festival soon.

Here is the list of all winning films and screenplays (they are listed in reverse order like they wee called out at the Awards Ceremony...

Feature Documentary

3rd Place - I Go Back Home - Jimmy Scott

2nd Place - Yazoo Revisited: Integration and Segregation in a Small Southern Town

1st Place - Pech River Boys: Tales From Afghanistan

Short Documentary

3rd Place - Walila: The Modern Sound of North African Sacred Music

2nd Place - The Abita Mystery House

1st Place - How the Taste of Louisiana Was Born

Animation

3rd Place - The Cat's Meow

2nd Place - G.I. Hospital

1st Place - The Adventures of Rocket Ace

Music Video

3rd Place - Creepy

2nd Place - Ringling Road

1st Place - Kool

Student College

3rd Place - Unrequited

2nd Place - Miles Away

1st Place - Splitting Maul

Student High School

3rd Place - Incubus

2nd Place - The Cat's Meow

1st Place - Ellie

Foreign Film

3rd Place - I Go Back Home - Jimmy Scott

2nd Place - Peelers

1st Place - Country Crush

Web Series

3rd Place - Donnie Baker's World

2nd Place - Hey You, It's Me

1st Place - The Adventures of Rocket Ace

Short Script

3rd Place - Dirty Winds

2nd Place - US Navy Cine-Kodak

1st Place - The Palsey

Feature Screenplay

3rd Place - Eke'bolos

2nd Place - Blood Trigger

1st Place - The Man Who Beat Mark Sptiz

48-Hour Film Sprint

3rd Place - Private Eye in the Sky

2nd Place - Coming this Fall

1st Place - Soul Search

Short Narrative

3rd Place - Two Bellmen

2nd Place - The Example

1st Place - Business Unusual

Feature Narrative

3rd Place - DisAssociationVille

2nd Place - Getting Schooled

1st Place - Lars the Emo Kid

Home Grown

3rd Place - Liberty Waning

2nd Place - The Abita Mystery House

1st Place - Helena

Best Actor
Paxton Gilmore in "Lars the Emo Kid"

Best Actress
Madeline Merlo in "Country Crush"

Best of Show
Lars the Emo Kid

Director's Choice Award
​The Adventures of Indiana Jones





Change to music lineup for Kick-Off Party...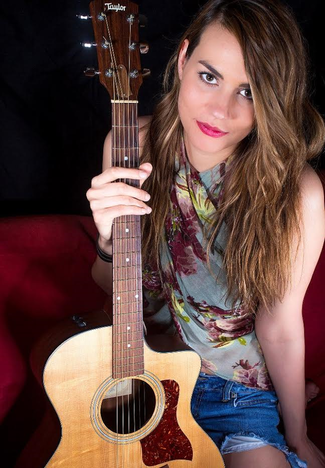 Join us at My Place American Pub on Friday, Oct 7, 7PM - Midnight for our Festival Kick-Off Party!
Mix & mingle with filmmakers, actors and film/music buffs.
Renda Ruiz will be taking over for the band LOOKS:that:KILL who had to cancel due to an injury.

Singer/Songwriter Renda Ruiz, from New Orleans, playing heartfelt originals as well as covers ranging from bluesy old school Etta James to modern day pop songs...

David Locklear is still scheduled to play at 7:30 PM and Renda Ruiz will follow at 9:30. Come enjoy this live music with us!

---
---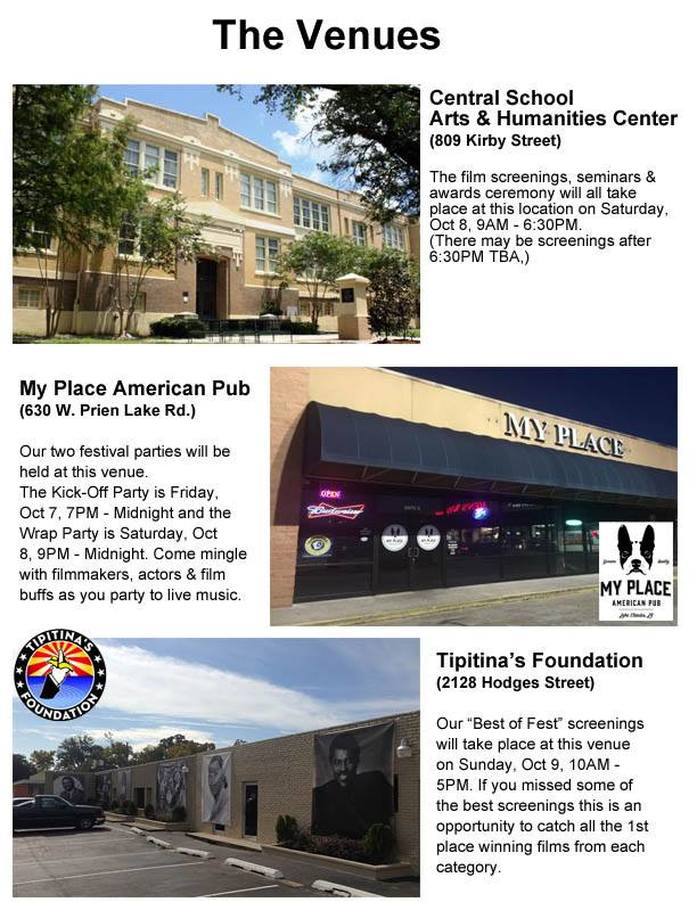 ---
Stunt Panel planned...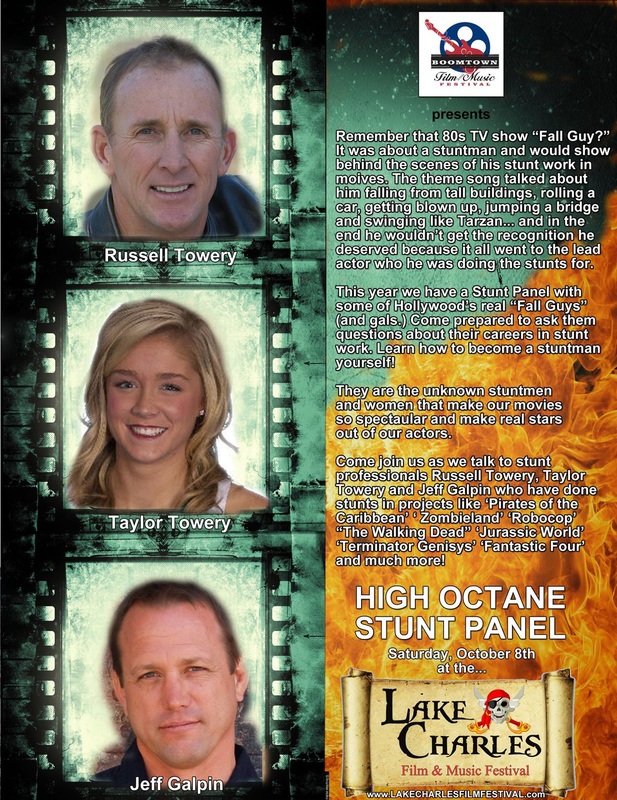 We are excited to announce a joint venture between our festival and the Boomtown Film & Music Festival (Beaumont, TX.)
This year the Boomtown Festival will be hosting a Stunt panel at our festival.
Make sure to attend this "High Octane Stunt Panel" for an insight into the world and lives of stuntmen and women.
The panel will take place on Saturday, Oct. 8th.

---
---
Learn How to Make a Movie from an Award-winning Director of Million Dollar Budget Movies...
Larry Wade Carrell will share his knowledge with you!

Larry Wade Carrell is coming to the Lake Charles Film & Music Festival... Don't miss your chance to learn from an award-winning director!
Larry is an award-winning writer, actor and director. He is best known for his horror creation Jacob. The film earned 16 awards worldwide including the Platinum Remi Award for Best Picture at the 45th Annual Worldfest International Film Festival. Jacob was well-received by critics gaining Carrell a solid fan base as a director and actor in the multi-million dollar indie film world, and the film went on to be released worldwide. Larry directed She Rises, which stars Angus Macfadyen coming soon from Blanc-Biehn Productions. As an actor, Carrell has been in several films, most recently Partricio Valladares' The Ghosts of Garip and Hidden in the Woods.
Larry will be putting on a seminar about making films from script to screen and even to distribution! Don't miss this opportunity to pick a pro filmmaker's brain and learn some valuable tips to help you along the way on your filmmaking journey!

---
---
Low-budget Filmmaking Seminar by Christopher R. Mihm...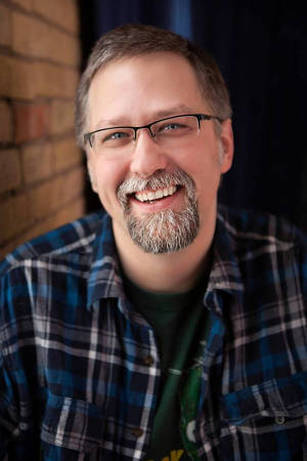 Christopher R. Mihm is the writer, director, and producer of the films of the "Mihmiverse," a series of award winning, loosely interlinked feature-length films styled after 1950s-era "drive-in cinema."

Mr. Mihm's filmmaking career officially began in 2006 with the release of his first retro-styled film, "The Monster of Phantom Lake." Made on a nearly non-existent budget, the film went on to garner much critical acclaim, appear in many film festivals, win multiple awards, and, to this day, continues to screen across the world.

Since "The Monster of Phantom Lake," Mr. Mihm has released one new as-authentic-as-possible 1950s-style feature a year, many of which have received numerous accolades, nominations, and awards. His sixth film, "Attack of the Moon Zombies," raked in the most "2011 Dead Letter Awards" at mailorderzombie.com. "House of Ghosts," Mr. Mihm's tribute to the films of classic horror master William Castle, won the coveted Rondo Hatton Classic Horror Award for "Best Independent Feature." "The Giant Spider," a tribute to the "giant bug" films of the 1950s, took first place in the "Action/Horror Feature" category at the 2013 Highway 61 Film Festival.

Christopher R. Mihm has been featured in many publications, both online and off, including SCI-FI Magazine, Screem, and Scary Monsters Magazine. Mr. Mihm was the recipient of the first-ever "Roger & Julie Corman Intrepid Filmmaker" award at the 37th annual ValleyCON in Fargo, ND and won the "Best Director" award from mailorderzombie.com.
---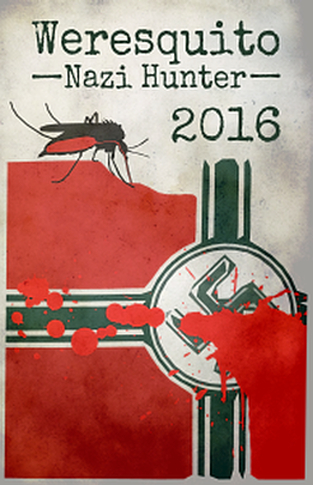 ​Mr. Mihm will be in attendance to teach his method of filmmaking. Learn from this master how to systematically make one feature film every year. Let him help you take the guesswork out of it as he teaches you his formula for success! He will talk about screenwriting, budget, gear, cast & crew, actors, filmmaking, editing, marketing and promotion and even distribution!
You don't want to miss this seminar! Make plans now to attend!

We will be screening his latest film, "Weresquito - Nazi Hunter," at the fest. Another great reason to attend!
---
---
Extraordinary Louisiana Film History Seminar to be Given at the Film Festival...
Ed & Susan Poole from Hollywood on the Bayou will be presenting a fun and informative seminar on Louisiana film history.
This seminar will include rare film trailers, posters, trivia, and some humorous stories about what went on during the production of some of these great Louisiana films. If you are a film buff or even a history buff... this is one seminar you don't want to miss!

Ed and Susan will have their latest book on Louisiana film history "America's First Movie Theater: Louisiana's Vitascope Hall" at the festival.

Pick up a copy from them and have it autographed!

---
A second seminar they will be putting on is about
​collecting movie posters!
Ed & Sue have been collecting posters since the '70 and have even written books on the subject.
In this presentation they will teach you which type of posters are "collectable," what to look for, how to spot fakes, and much more. As examples, they will be bringing along many of their original Star Wars posters.
---
New Orleans Band 'HOLLYROCK'
to Perform at Festival Wrap Party
After the Film Festival, come wind down with a drink and show off your winning trophies at our annual
Festival Wrap Party!
It will be held once again at
My Place American Pub.
This is a great way to say goodby to your festival friends until next season.
Join us for food, drinks and live music by the New Orleans band 'HOLLYROCK!'
Guaranteed to be a good time!
Don't miss it...
​Saturday, October 8th
9PM - Midnight.


---
Annual Festival Kick-Off Party
to be held Friday, October 7th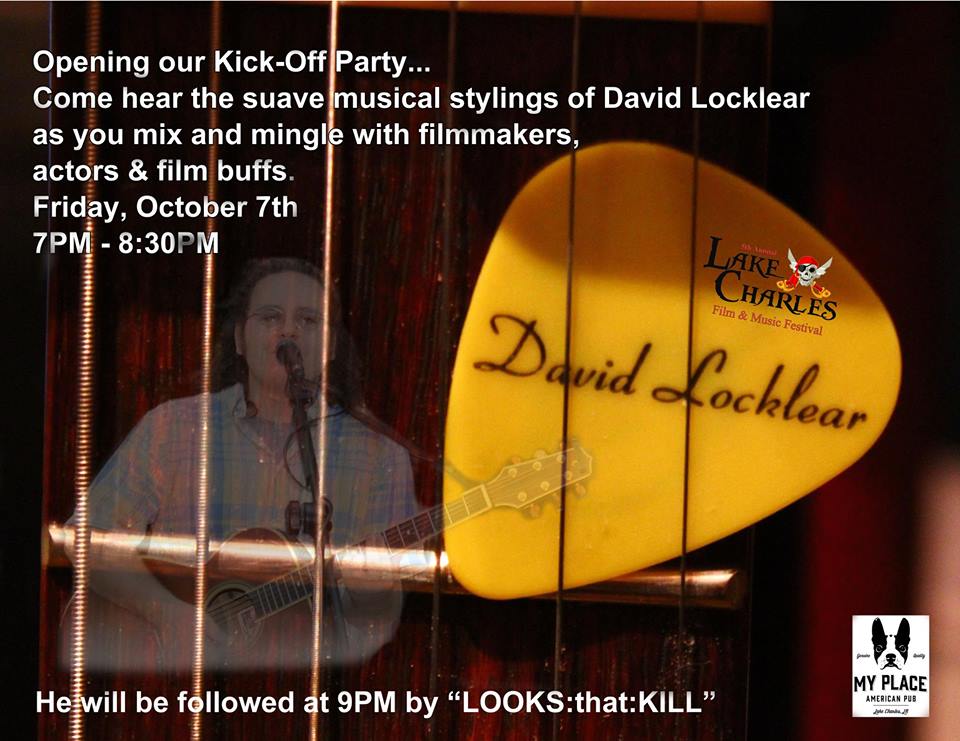 Join us on Facebook for up to date announcements about our parties and events
---
---
---
Withoutabox logos are trademarks of Withoutabox, a DBA of IMDb.com Inc. or its affiliates.