Thank you to everyone who attended, submitted films, or helped with the 2015 Lake Charles Film Festival! Special thanks to Marshall Teague and Christopher Mihm who put on some great seminars! You guys are awesome.
We would like to get feedback (good or bad) from everyone who attended to help us make a better festival for you next year.
Please contact us at info@lakecharlesfilmfestival.com.
Congratulations to all the winning films and filmmakers! All of the submissions were remarkable this year.
Below is the complete and official Festival Winner's List.
Thanks again.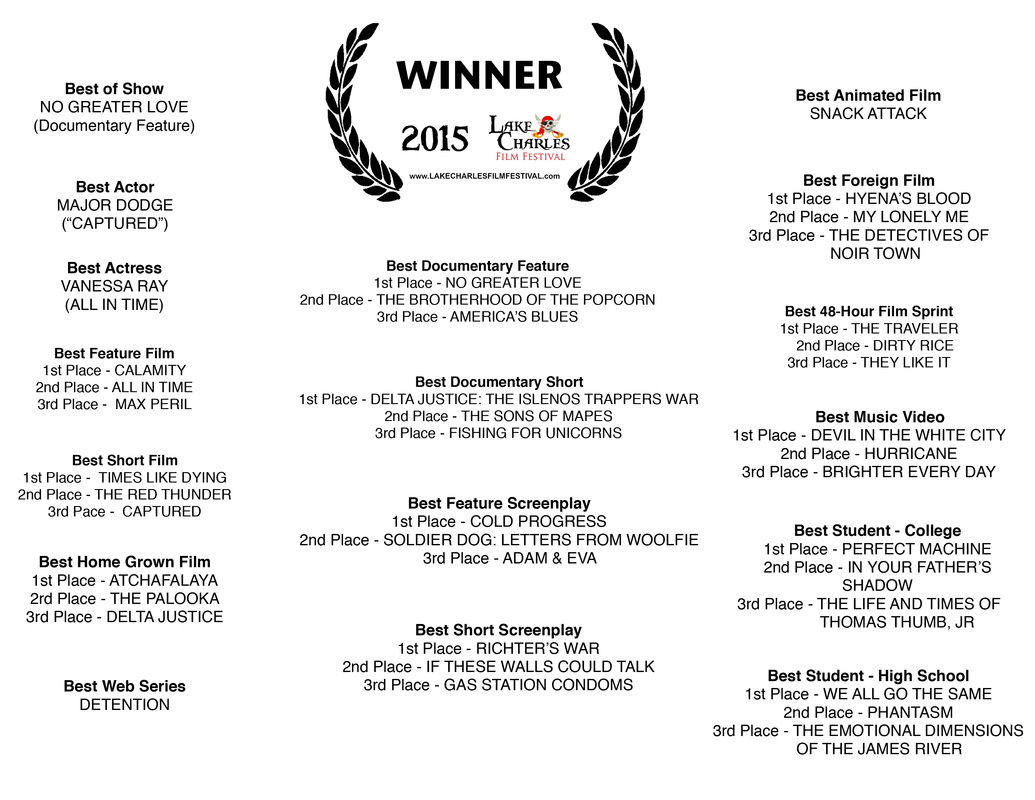 ---
Actor Marshall R. Teague to attend the Lake Charles Film Festival this weekend!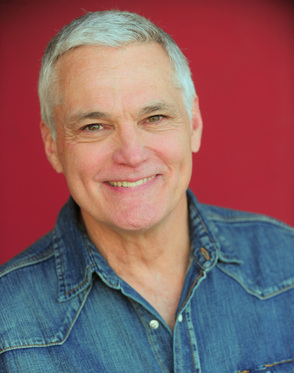 Mr. Teague has stepped up to fill in the hole in our schedule and will be taking Gil Gerard's spot in the Saturday 11AM Q&A session on acting, filmmaking, and anything else you want to pick his brain about.Marshall R. Teague has been in over 130 TV shows & movies including Armageddon, The Rock, Road House, "MacGyver," "Renegade" and "Walker: Texas Ranger."He's known to many Sci-Fi fans for some of his TV roles in shows like "Star Trek DS9," "Star Trek Voyager," Babylon 5" and "Sliders."
Come say hi, attend his Q&A and take a picture with him.
You can check out his IMDB page HERE.
*TRIVIA:
Marshall holds an industry record of 103 deaths on screen.
---
---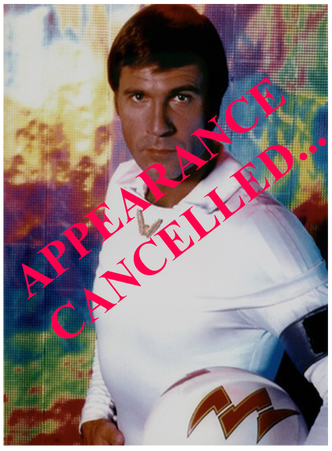 We are sorry to announce that Gil Gerard has had to cancel his appearance at the 2015 Lake Charles Film & Music Festival due to an illness.
Here is what Gil says: "I am very sorry to have to cancel as I was really looking forward to being at your event. Lake Charles is a beautiful community and I was looking forward to renewing my acquaintance with it.
Please convey my sincere regrets to your attendees."

We hope Gil has a speedy recovery.
---
---
The Film Screening Schedule Has Been Posted!
Click HERE to see it.
---
Coming in from out of town? Book your rooms now at our official hotel and save!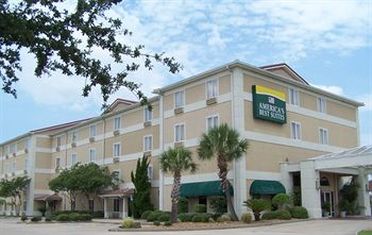 Our official hotel for the 2015 Lake Charles Film Festival is
America's Best Inn & Suites.
Give them a call now at (337) 439-2444 to reserve your room! Mention that you're coming in for the Lake Charles Film Festival and receive a discounted rate.
They are located at 401 Lakeshore Drive, Lake Charles, LA, 70601.
This is a nice place to stay and it's located across from the lake and there are a few restraints within walking distance. They also have a free breakfast.
---
---
More Cosplayers to attend the Lake Charles Film Festival!!
"Cute Classy CHAOS" was the first Louisiana Team to compete nationally in the finals of the World Cosplay Summit. Year-round you'll find them running shows as the cosplay competition coordinaters for several anime conventions in Louisiana and Texas, including BayouCon, Louisianime, Anime Overload, IkkiCon, and more in the works for next year!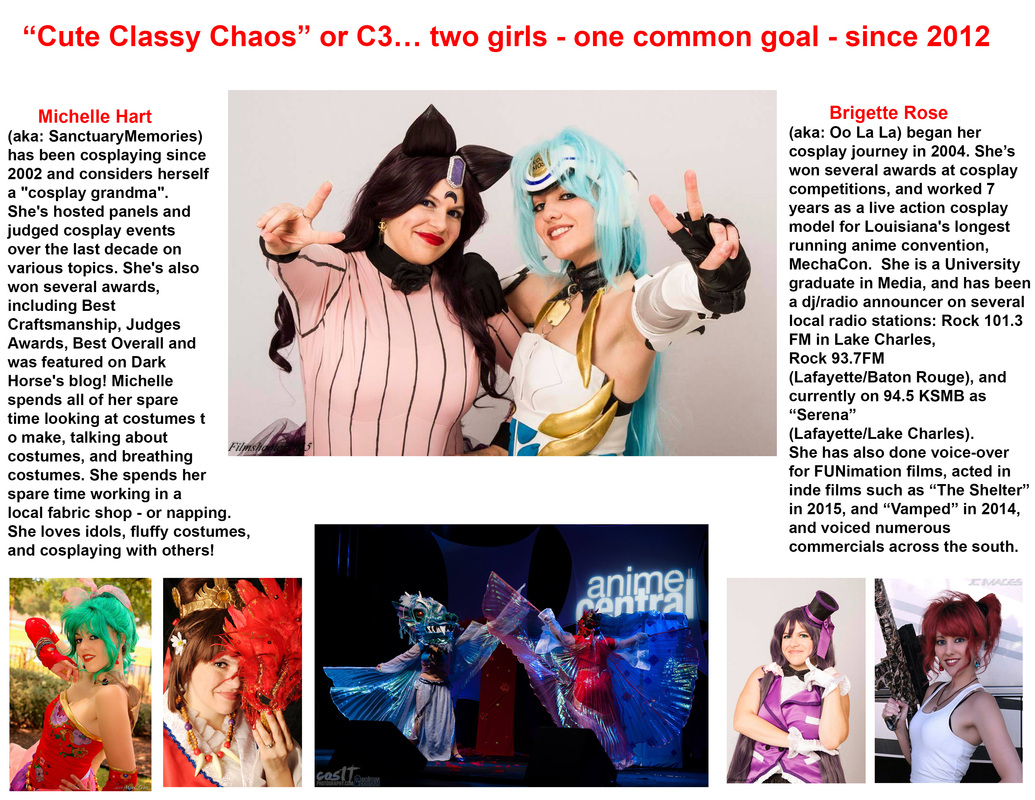 ---
RUN FOR YOUR LIVES! THE GIANT SPIDER RETURNS TO LAKE CHARLES!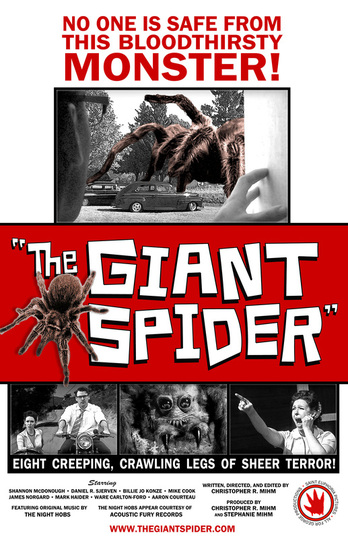 Attendees of Christopher R. Mihm's seminar on 'low-budget filmmaking & film distribution' will be in for a special treat... his film "The Giant Spider" which was a selected feature at our festival back in 2013 will be screened as part of his seminar and used as an example of his filmmaking techniques.
Make plans to attend his seminar on Saturday, October 10th at the Central School Arts & Humanities center. You don't want to miss it!
---
---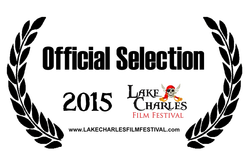 Acceptance latters have been sent out. Please check your e-mail to see if your film/screenplay has made it into the festival. There are instructions and a deadline for sending in a hard copy of your film.
Congratulations to all! There were many quality films and screenplays. The finalists are on their way to the final judges.
---
---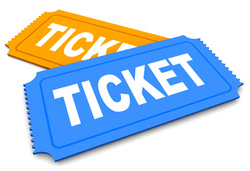 Tickets for the festival, parties and "Best of Fest" are now available online!Click HERE to go to our ticket page.
---
---
Professional Louisiana artist and Indie filmmaker Felix Matos will be in attendance!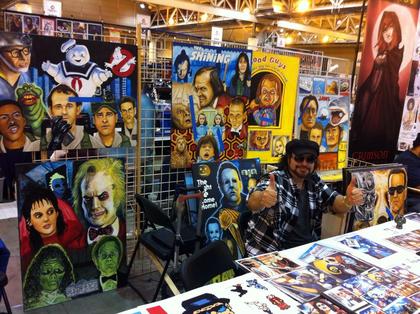 Awesomely talented Louisiana artist Felix Matos returns for this year's festival. Come check out his ultra realistic film & TV paintings. Purchase a nice piece from your favorite movie for your entertainment room, office, or home.
He went to school to become a multi-instrumentalist. He wanted to learn every instrument he could. Met the love of his life Liz and got married.
In school, he took an alternate course in drawing where his teacher told him he should become an artist.
He never was able to finish school because of an injury that left him paralyzed. After months in the hospital and rehabilitation, he was able to start walking again. Since he couldn't work, he started painting and fell in love with it.
He would paint anywhere people would let him paint.
In 2005 Katrina hit Louisiana and He moved with his family to Oklahoma where he decided to try to make something out of a bad time and pursued his art. While in Oklahoma, he became most popular for his horror work and his work with horror host legend Count Gregore. He became a big part of the Oklahoma horror scene.
Now after moving back to slidell,he travels and does Conventions to show his work all over the country. He is also working on new movie projects in Slidell and New Orleans area.

---
---
"Best of Fest" screening on Sunday, October 12th...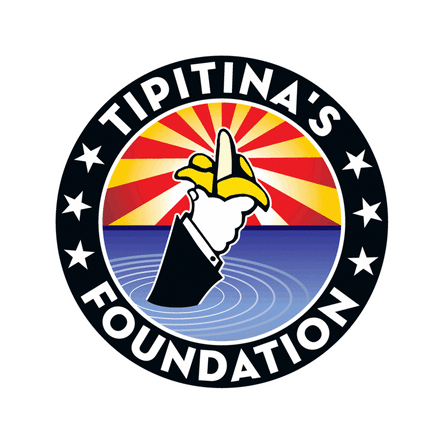 We will be screening all the winning Festival films at our "Best of Fest" on Sunday, October 11th at Tipitina's (2128 Hodges St.) The screenings will start at 10AM and will end when all the winning films have been shown.
This event is free to all VIP ticket holders and $5 for anyone else.
Special thanks to Tipitina's of Lake Charles for sponsoring this event!


Films include: Best Feature Narrative, Best Short Narrative, Best Home Grown (made in Louisiana,) Best Documentary Feature, Best Documentary short, Best Animation, Best Foreign Film, Best Music Video, Best Student Film (College,) Best Student Film (High School,) and Best Web Series.
---
---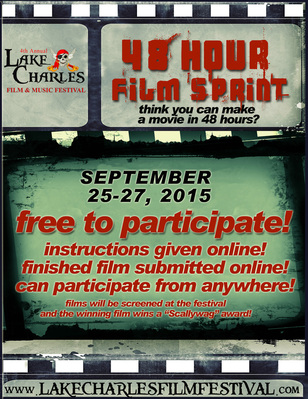 All the info has been posted for our 48 Hour Film Sprint happening September 25-27.The sprint is completely FREE to participate in.Click HERE to read the rules and sign your team up.
---
---
The 501st Legion's Bast Alpha Garrison
Returns to the Lake Charles Film Festival!
Bring your camera for some great photo ops with the Bast Alpha Garrison!
They will also be putting on a workshop showing you how to design and build props and costumes for your films!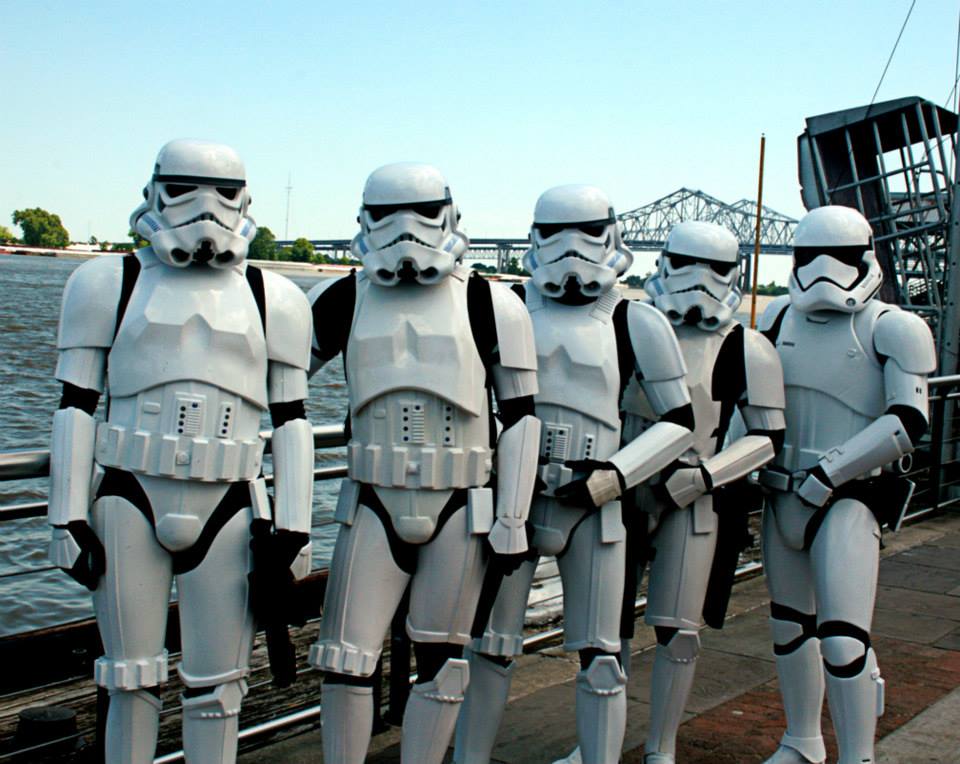 ---
Two Bands Selected to Play This Year's Festival Kick-Off Party...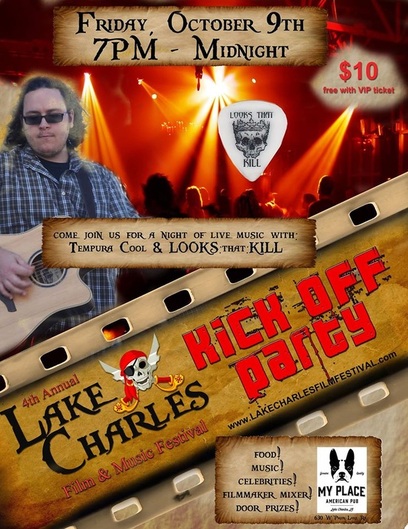 Join us Friday, October 9th at 7PM as we kick off the 4th Annual Lake Charles Film Festival with our traditional Festival Kick-Off Party!
Come mix and mingle with filmmakers, actors and film buffs. Celebrities will be in attendance as well.
This year we have two live bands for your entertainment...
First up is Tempura Cool with some classic rock, folk, and a few original indie tunes.
Taking it further into the night is LOOKS:that:KILL, a 80s Metal cover band.
This party is gonna be hot!
It takes place at My Place American Pub.
Make Plans now to attend!
---
---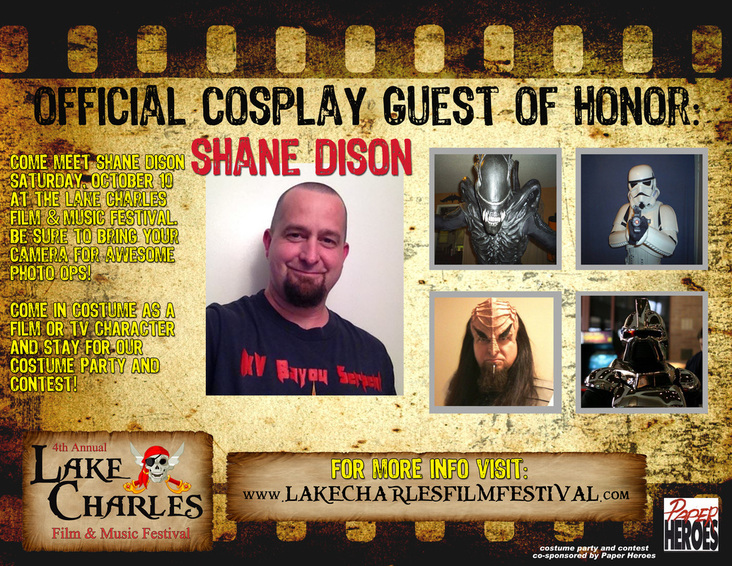 Super Cosplayer Shane Dison will be joining us on Saturday, October 10th as our Official Cosplay Guest of Honor. He will be appearing in different costumes throughout the day so bring your camera for some great photo ops!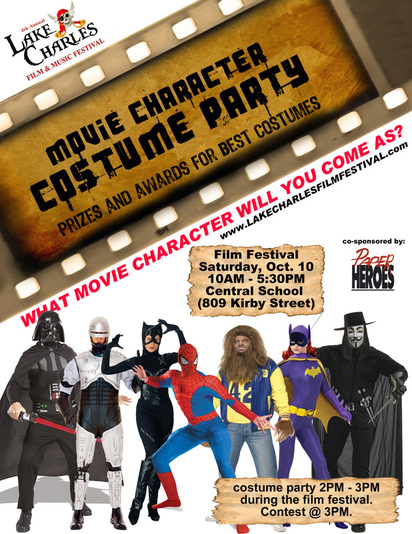 If you have a Film or TV Character related costume (which includes anime characters) feel free to attend the Film Festival in it! If fact, show up in costume and get 1/2 off admission into the festival. We will honor everyone in costume with a special costume party from 2PM - 3PM where we will have lots of poto ops!
The party will end with a cosplay contest at 3PM!
The winners will be announced during our Festival Awards Ceremony at 6PM.


---
---

Happy to have InkTip as a partner of the 2015 Lake Charles Film & Music Festival!
InkTip where everyone goes for scripts & writers.
http://inktip.com
---
---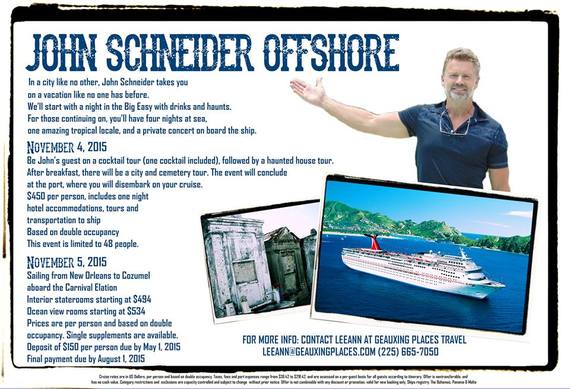 Here's a great opportunity that John Schneider is offering...
Set sail with John to Cozumel after a night on the town in New Orleans!
What a great vacation this would be! Hang out with John and he's even going to put on a private concert aboard the cruise!
Check out his flyer for more information!
---